8 Days In-depth Tibet Memorable Family Tour
Price from
899
per person

Price notes:
1. based on double occupancy
2. 3 star accommodation level in low season
3. international airfare is not included
4. price is subjected to change according to group size and payment methods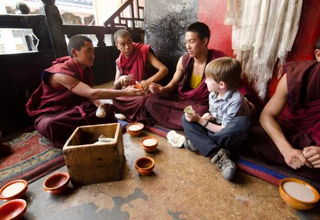 View Gallery
Duration: 8 days and 7 nights
Tour type: Escorted Private Tour
Departure: You Choose!
Tour code:

TD-FT-08
Is this trip for you?
Physical Demands

Physical Requirements

Capable of walking short to medium distances by oneself in high altitudes. Must be capable of minor ascents and descents.
Capable of light walking and hiking in high altitudes. Suitable for most fitness levels.
Average fitness level. High altitude hiking for several hours.
Possibly includes high altitude hiking of up to 6 hours per day or activities of a similar nature. Requires an elevated level of fitness.
Features demanding high altitude treks or cycling. Only suitable for those with a high level of physical fitness and endurance.

Note: If you have any questions concerning the requirements or the unique demands for your particular tour package, please feel free to contact one of our helpful Travel Consultants for further information.

It's advisable to have a body check-up or have your doctor's advice before visiting Tibet. Visitors with a record of heart, lung, liver, or kidney problems must seek medical advice before making the decision to go to TibetAlso, people with any of the following problems should not go to Tibet.

Have already caught a cold
Have severe anemia
Have high blood pressure or severe heart disease
Have pneumonia, tuberculosis, tracheitis, or bronchitis

Tour Pace

Leisure

Tour Pace

Leisure: enjoy your tour in a slow pace, allowing plenty of time for photography, you will see the most famous attractions, and spend plenty amount of time in each destination.
Comfortable: enjoy your tour in a comfortable pace, you will see most popular attractions, and spend reasonable amount of time in each attraction.
Tight: enjoy your tour at a tight pace, as you will be able to see as many tour attractions as possible in the available amount of time.

Max Altitude

5,010m

Altitude

High Altitude Sickness is one of the biggest challenges when travelling in Tibet. According to our experience, most people will be fine up to 3500m above sea level, as the altitude go higher up to 4500m, mild symptoms as shortness of breath, headache might occur. Adverse reactions may vary from person to person. In most cases, the symptoms are mild and will subside in several hours to several days as the body acclimatizes.

Mild Symptoms of AMS include:

Headache
Shortness of breath with exertion
Rapid pulse (heart rate)
Nausea or vomiting
Fatigue
Loss of appetite
Poor sleeping
Dizziness or light-headedness
Journey at a Glance
Day1: Lhasa arrival
Day2-4: Lhasa tour

Potala Palace, Barkhor Street
Dickey Orphanage, Sera Monastery

Day5: Lhasa – Gyantse

Yamdrok Lake, Palkor Monastery

Day6: Gyantse – Shigatse

Tashilumpo Monastery

Day7: Shigatse – Lhasa
Day8: Lhasa departure
Itinerary Details – Day by Day
Day 1

Lhasa Arrival

No documents found.

Welcome to the roof of the world! You will be picked up by local tour guide at the airport hall or train station, and then be escorted to your hotel in Lhasa city in a private vehicle.

After arrival at your hotel, the rest of the day is free for you to explore the local areas and acclimatize yourself to the air, temperature and high altitude of Lhasa.

High Altitude Acclimation Tips: 1) Go for some leisure walking to acclimate the high altitude but avoid strenuous activity after arrival; 2) you'd better not have bath, in case of catching a cold; 3) Drink more water, and have some fruit; 4) Have a good rest.
Day 2

Lhasa ( B )

Start today's Lhasa exploration with an exciting visit to the landmark – Potala Palace which is regarded as one of the most beautiful architectural building in the world. You will climb up the palace along the zigzag stone paths with white-and-red walls to the top of the palace where you can not only appreciate the exotic Tibetan-style architecture, but also get a great view of Lhasa's urban areas, then walk into the inner space of Potala Palace to explore the stately chapels and learn about the history of the palace.

Continuing your exploration, you will then get to Jokhang Temple which is considered as the spiritual heart of Tibetan Buddhism. Each day, there are thousands of pilgrims coming from different places in Tibet to the temple to worship to the Buddha. This temple is also known as the "house of Buddha" because it keeps the precious Jowo Rinpoche, the life-sized (5 foot/1.5m) image of the Shakyamuni at the age of 12. The last site for today's exploration is the famous Barkhor Street. It is a circular and wide street encircling the Jokhang Temple. The local people like to walk on the street for several circles usually in the late afternoon as a daily tradition of pilgrimage. The street also has many shops selling a wide variety of traditional Tibetan goods, religious items and handcrafts.

Tips of Today: 1) there are 1,080 steps up to climb to the top of Potala Palace, so don't walk in a rush, which may cause high altitude sickness; 2) taking photos is not allowed inside the palace; 3) today you will be mainly outside, please bring some water, a hat, sun cream, and sun glasses with you.
Day 3

Tibetan culture exploration ( B )

You will visit a village and talk to locals, then visit a local family and learn about their daily life. Try home-made Tibetan food and milk tea. Explore the village where you will get a chance to experience how local Tibetans express their faith when you are brought to a local place of worship. Tibetans are very friendly and hospitable. You might also have the opportunity to learn how to make pulu, thangka, Tibetan joss stick, and other Tibetan snacks.
Day 4

Sera Monastery and Dickey Orphanage ( B )

Kids like to play with kids. Today your family is going to visit a great place where you can take you kid(s) to hang out with even-aged friends and do some educational activities – Dickey Orphanage. It is known as the "sweet home" of orphans in Tibet, and was founded in 2002, by a great Tibetan lady Tamdrin Dadhon who sold all her family's properties and gathered about 300,000 RMB to create a home for the orphans. Currently, there are about 90 orphans living in the Dickey Orphanage. And Dickey, in Tibetan means "Fine and Happiness". Tamdrin named the orphanage as Dinkey out of her wish that all kids could be fine and happy.

In the afternoon, your family will be transferred to visit the famous Sera Monastery to witness the unique "Buddhism Scriptures Debating", also learn about the Buddhist culture in thsi great Gelug monastery.
Day 5

Lhasa – Gyantse ( B )

Today you will leave Lhasa and drive about 6.5 hours to Gyantse. The first site you will reach is the holy Yamdrok Lake. As the largest fresh lake in the northern of the Himalaya Mountains, it spreads about 675 square meters from south to north, like an eardrop lying in the arms of snow-capped giant mountains. Viewing from a distance, you can see fertile pastures full of yaks and sheep, and some small Tibetan villages along the lakeshore. Keeping driving not so far from Yamdrok Lake, you will see the imposing Karola Glacier towering aloft on the right side of the road.

Continuing your trip, you will get to the historical city of Gyantse. Feel hungry? Have a good lunch in the town, then go to visit the mysterious Palcho Monastery. The monks and tradition of three important sects of Tibetan Buddhism – Sakyapa, Zhalupa and Gelukpa, peacefully coexist in this monastery. Its Kumbum, which is 35 meters high and has 76 small chapels with hundreds images of Kriyatantras , is believed to be the largest such structure in Tibet. Finishing the visit in Palcho, go to climb up to the Dzong Fortress on which the Tibetan army used to fight against the British army's invasion during the early 20th century. From the top of the fortress, you can get a great panoramic views of Gyantse city.

Recommended optional night activity: watch the magnificent living show of Gyantse Impression which performs about the history and culture of ancient Gyantse.

Tips of today: 1) wear warm clothes to prevent from cold and wild; 2) the road condition from Lhasa to Gyantse via Yamdrok Lake is good; 3 feel free to ask your driver to stop so you can stretch your legs or take some pictures.
Day 6

Gyantse – Shigatse ( B )

After breakfast, you will going to visit a very special site where you can learn about the living condition and tradition of old Tibet – Pala Manor. Located in a Tibetan village about 4km southwest from Gyantse city, Pala Manor is the only aristocratic manor preserved well in Tibet, and used to be the private manor of Pala families since 17th century. The aristocratic and the serfs both lived in the manor but completely different life. The aristocratic didn't need to work, lived in bright, large and luxury rooms, used costly furnitures and imported luxuries, such as OMEGA watch, LV purse, wine, etc. While the serts lived in dark crude room in yards, got paid little but did all the labouring works. Fortunatly, the house, relics in the rooms are still remain the same as they used to be.

After the visit in Pala Manor, you will move to Shigase, which is about 2~3 hours' driving on road. After arrival, you are going to visit the most important monastery in Shigatse region – Tashilunpo Monastery.

Tashilumpo Monastery is the seat of successive Panchen Lamas, aslo one of the six Gelug monasteries. Founded by the First Dalai Lama in 1447, its name means "all fortune and happiness gathered here" or "heap of glory" in Tibetan. Covering an area of nearly 150,000 square meters, the monastery has more than 57 halls and 3600 rooms. Among them, the Coqen Hall can hold 2000 people chanting at the same time. Featuring an interesting sprawling amalgam of traditional Tibetan monastic style, those halls, chapels and other structures are connected by precipitous steps and narrow cobblestone alleys. The interplay between the golden roofs and the white, red and black exterior walls creates a striking composition.

Have a good rest in Shigatse.
Day 7

Shigatse – Lhasa ( B )

Today you'll drive back to Lhasa (5 hours) along the legendary Yaluzangbu River, the mother river of Tibet. On the halfway, you will take a visit to Nyemo Tunba which was the home of Tunmi Sangbuzha who invented the Tibetan character as well as the famous Tibetan Tibetan Incense. Here in Tunba, you also have chance to witness the process of making Tibetan Incense with water mill. At the same time, the scenery here is fabulous – ancient cypress trees, green willows, murmuring river…

Leave Tunba, keep driving to Lhasa. You will stop by at the place where is about 20km to Lhasa to take a short visit to the Nyethang Buddha which is coveniently located along the road, approximately 20km from Lhasa. Built in more than 700 years ago, the Nietang Buddha is the largest and highest stone Buddha in Tibet, and was colorfully painted by deep colors of golden, red, blue and black. West not far from the Buddha is the Nyethang Monastery where the famous ancient Indian Buddhist master Atisha meditated and taught Buddhism.

In the evening, you'll have a Tibetan-style farewell dinner in a typical Tibetan restaurant, with traditional Tibetan songs and dances.
Day 8

Lhasa Departure ( B )

No documents found.

Today will be free for you to be transferred to the airport in time for your flight.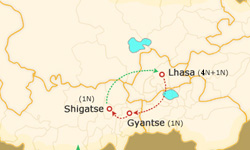 click to enlarge the map
"Our Expert Says"
This is an in-depth Tibet family vacation covering the most recommended destinations for family with kids travel. You will travel from Lhasa to Gyantse and Shigatse, which is full of things to do – Discover the "real" Tibet: its people, landscape and religion; Enjoying the marvelous landscape of Yamdrok Lake; Explore the different culture in Shigatse area; Have a special experience of making Tibetan handicraft; Share your family love with those homeless children in Dickey Orphanage.
Recommended groups: Families with kids. This tour will go through Karola pass at 5,010m, however most activities will be in an attitude lower than 3,900m, so a reasonable level of fitness is needed.
Conditions: The road condition from Lhasato Gyantse (255km, 5-6 hours) is good but mainly over mountains. We make sure the tour pace is comfortable and well arranged. You will be able to see the beautiful landscapes of Tibet and Tibetan rural life on the way. The road condition from Gyantse to Shigatse and then back to Lhasa is good with a paved road.
Best time: Available all year round. Highly recommend May, June, September and October. Winter can be a bit cold.
Tailoring your trip
This itinerary can be designed to give you a flavour ofwhat is possible.
We can change the tour paces to meet your travel style: leisure, comfortable, or tight.
We can tailor this trip to suit your specific requirements.
Itinerary can be altered, from daily activities to accommodation.
You can either shorten this tour to meet your planning travel time, or extent the journey to other Chinese cities.
Price & Service Guide
What's included in this price?
Private professional English-speaking tour guide.
Private vehicle and Luggage Transfers.
All necessary Tibet travel permits.
All accommodations, based on double-occupancy. Medium standard accommodation with attached bathroom on twin sharing basis.
Meals, as noted in the itinerary.
Admission fees and activity expenses, as noted in the itinerary.
Service Charge (the planning, handling, operational and communication charges) & government taxes.
Tourists Accident/Casualty Insurance
What's excluded in this price?
China visa, all air tickets and train tickets to and from Tibet.
Sightseeing not listed in the itinerary.
Meals not listed in the itinerary.
Personal expenses such as laundry, drink, fax, telephone call, optional tour activities, etc.
Gratuities, tips to guides, drivers, bellboys, etc.
Excess Baggage Charges.
Single room supplement.
Value for money:
While the trip of a lifetime is priceless, we know value is a vital aspect for those deciding which tour to choose.
When comparing tour prices, be sure to compare like to like. Our tours are designed to ensure that our customers experience all the culture, history, and beauty that Tibet has to offer, and at a reasonable price.
A great way to enjoy the lowest possible price is to invite more people to join your trip to share the travel experience as well as the tour expense. The more people in a group, the lower the price per person. (We recommend you join our group tour if you are traveling alone. Please contact our travel consultant for more information)
Booking early is also an easy way to ensure the best rate! We highly recommend you contact us at least 1 month before your planned departure date.
FAQs of This Trip
No documents found.
You May Also Like